This is how my dad and Gus fish. . .
Gus loves my dad so much. . . he has absolute unwavering and unconditional loyalty . . . which while watching them 'fish' together, made me compare their relationship to our walk with Christ. . .
Sometimes when we ask God to move in a certain way, his answer is "wait." . . . this picture makes me think of that more than anything. . . Gus wanted to get in the water, but Dad told him to wait until he was done fishing. . .
I needed that this week. . . the answer "wait" is so hard sometimes. . . I have a friend going through an unimaginable valley right now. . . and this picture brings me such peace. . . "wait". . . and He will carry you through this dark time. .
"These things I have spoken to you, so that in Me you may have peace. In the world you have tribulation, but take courage; I have overcome the world." John 16:33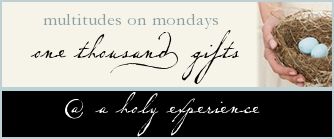 5. The way a sip of Earl Grey takes me back to memories of high tea in London.