I am so excited to link up with
Casey's
recipe exchange today!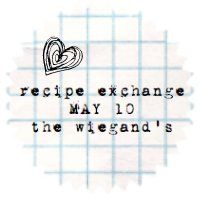 I saw this recipe on
The Waspy Redhead
and decided to try it out a couple weeks ago! AND it was AMAZING and SUPER easy! :-) I already had all the ingredients in my pantry which made me love this recipe EVEN more!! :-)
Make sure to head over to
Casey's recipe exchange
to see a little "dinner party" tip from me! :-)
Ingredients:
6 Tbsp unsalted butter
1/2 cup smooth peanut butter
1 cup granulated sugar
1/4 packed light brown sugar
2 eggs
1 cup all purpose flour
1/4 tsp coarse salt
1 tsp baking powder
1 cup semi-sweet chocolate chips
Directions:
Preheat oven to 350. Line an 8×8 pan with parchment and grease lightly with butter.
Whisk together flour, salt, and baking powder. Set aside.
Cream butter, peanut butter and sugars together until well combined. Add in the eggs one at a time, scraping the sides of the bowl after each addition.
Fold in the flour mixture. Stir in the chocolate chips until just combined – don't over stir or the dough will get tough and your bars will be less delicious.
Spread batter into prepared pan. Bake for 30-35 mins depending on your oven. Allow to cool completely on a rack. Use the parchment to lift the cooled bars out in one fell swoop then cut into 16 servings.
Enjoy!
The Waspy Redhead