I am thrilled and honored that Rebecca is going to share her testimony with us this morning! She is such a wise counsel for me and a constant encourager in my life! I am honored to call her a friend!
Easter Testimony 2011 – God Will Make a Way
From a young age, I can remember people telling me, "God will never give you more than you can handle." I don't know about you, but I can think of many situations in my life that have definitely been more than I could handle. However, they weren't too big for my God to handle – and He promises to make a way each and every time.
Next month marks the 7th anniversary of the most challenging trial I have ever faced. I went from being a 23-year-old, recent Baylor graduate with career, graduate school and boys on my brain to being a full –time cancer patient at M.D. Anderson Cancer Center. I had spent the spring of 2004 not feeling well, sitting in doctor's offices, trying to figure out what was making my face, neck and upper body swell. My diagnosis ended up being stage 4, large B-cell, non-Hodgkin's lymphoma and I had a tumor in my chest and spots of cancer along my spine.
For the next 9 months I would cling to the things that absolutely matter the most: my faith, my family, my friends and my support network. The days were hard, but the Lord was by my side and He provided hope each and every day. Encouragement came in the form of letters and cards from my Pioneer Drive church family; love came in the form of a mom and dad who made numerous sacrifices so that one of them would always be in Houston to take care of me and two brothers who helped me celebrate my newly bald head by shaving their own heads; blessings came in the form of a special couple who opened up their home to my family and allowed for us to live with them for 9 months. Friends and family came to visit and provided moments of normalcy that I desperately needed. I know that I laughed and cried equal amounts those nine months, often overwhelmed by the love and generosity of everyone I came in contact with. Medically, I worked with the best doctors in the world and after six rounds of chemotherapy and a month of radiation, I'm happy to report that this past October I celebrated six years of my cancer being in remission. Each and every day of this journey, God made a way and has shown his Resurrection power to be real.
And He continues to make a way. The after-math of my cancer treatment has brought its own set of difficulties. In 2006, I learned that I had developed a condition in my joints due to my cancer treatment called avascular necrosis. Since this diagnosis, I have had 3 hip replacement surgeries and most recently, I had my right shoulder replaced. Let's just say they don't know what to do with me when I walk through the metal detector at the airport…
Physically, I have scars all over my body. I could tell you a story about each one but the most important thing to know is that they each represent a story of love. Emotionally, I've had hard days – the ones where I've felt a little sorry for myself and where life has just seemed hard. But more often, I've felt protected, peaceful, prayed over and surrounded by loving people who continue to encourage and support me each step of the way. Spiritually, God has given me the gifts of empathy, compassion, and kindness by putting beautiful examples of each of these virtues right before my eyes. I am blessed to serve a good and loving God and I treasure the miracle He entrusted me with. He is my Healer and He's made a way for me to be here today and for you to be here as well. I want to leave you with a quote by Oswald Chambers that I keep taped to my computer. It's a gentle reminder that regardless of what we all may go through, that God has a purpose and a plan. It reads, "There is only one relationship that matters, and that is your personal relationship to a personal Redeemer and Lord. Let everything else go, but maintain that at all costs, and God will fulfill His purpose through your life. One individual life may be of priceless value to God's purposes, and yours may be that life."
I love you sweet friend and am SO thankful that you are in my life! :-) I'm also thankful that my little brother has such great taste in women! :-)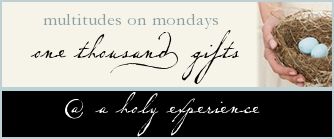 11. How Nate sings in the shower so loudly that I can hear him throughout the house! :-)